OK...we're back. We're trying to get things up to date as much as possible and with this update...we will be current as of what ever mixes we've been able to gather that's already online. You see, we've uploaded many mixes online already...but they're all scattered all over the web. So we'll make it easier for everyone, let's put all of it at one place to make things easier and convenient.
And...as a reminder...don't forget that
Tw33k will be DJ'ing at
FLIGHT Club in Huntington Beach on 9/24/10
it is FREE before 10:30pm if you are on "Tw33k's Guestlist"
To get on the guestlist is simple.
-Email first and last names to
M3Production@gmail.com
-Also include adders (+4 max) these act for when you're coming in a group that you don't know their names, those in your group will be the adder portion along with your name.
-Email names by 9/23/10
-Please be prompt and early at the arriving to the club before 10:30pm, price for after 10:30pm is half off regular door cover (which is estimated at possibly $10 or $15) SO BE THERE EARLY!
-SPECIAL!!! Tw33k will be playing from 9p-11:30p, so he'll be covering a large range of music from start to finish!!!
This is a 21+ event
FLIGHT Club & Bistro
8082 Adams Ave
Huntington Beach, CA
9p-2a
Dress code is casual/dressy
They're pretty lenient, but you still don't want to come looking like rags. Jeans are OK, Tennis shoes are OK
For even more information, you can add
DJ Tw33k @ www.facebook.com/hybreeddj
and he'll gladly route you towards the event wall.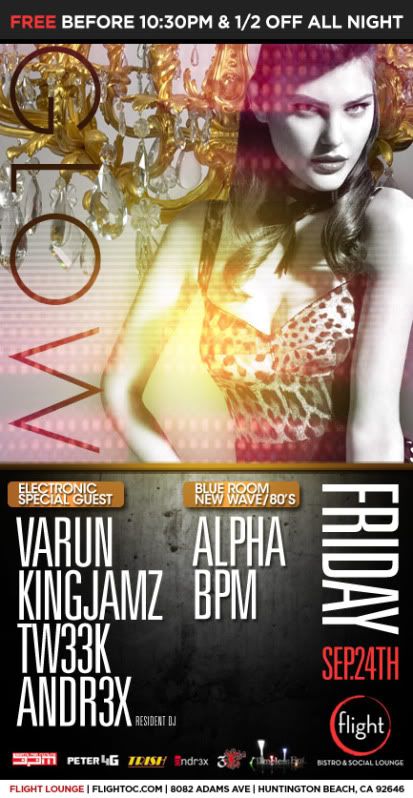 Remember to email those names to be on Tw33k's Guestlist!
And now for some music time!!!
CLASSIC!!!
DJ Tw33k live in ANOH 11/11/04
http://www.divshare.com/download/12599483-53c
Tw33k
-"So I'm just working on some school stuff since I'm working on my engineering degree. And I was going through some of my older sets. I picked this one out because of a certain part of the mix that gives me chills. When I listened to it...I couldn't stop myself from uploading this. It brought me back so much memories as well as I was surprised with how I was able to mix this so cleanly. Although there is one mess up, but it was pretty minor. But he importance was the flow....it flowed like water. Just keep in mind, this is a HOUSE mix, very progressive and soothing and it relaxes you. Hope you enjoy a blast from the past!"
DJ Tw33k live @ Circus Disco 8/28/10
http://www.divshare.com/download/12460708-bfa
Tw33k
-"Closing the night @ Circus Disco, I had to play hard right off the bat since the DJ before me was playing some fast progressive and some psy. So I start off with some tech trance leading into D.Tech and than back into tech trance again as well as closing the last few minutes with some classic and than with a HUGE bang! Hope you enjoy."
DJ Tw33k live at 88.9FM 7/9/10
DJ Tw33k live @ KUCI 7-9-2010 by DJTw33k
Tw33k
-"It's been a while since I've played on this radio station, but it was good to be back. I hope you enjoy this 2 hour set. First starts off with some progressive house and some tech, leading towards some D.Tech and ending with tech trance. Lots of new songs as well as unheard of songs, and like the usual...I do love tricks. :) "
DJ Tw33k live @ UKUF Radio 7/28/10
http://www.divshare.com/download/12437179-4d2
Tw33k
-"I start off this set with some house, dirty house due to the DJ before me. Than featuring some D.Tech and tech trance like usual. Of course new tracks all the time, always keeping it fresh. It's not my best set, but I do hope you enjoy. :)"
Remember for Booking please email:
M3Production@gmail.com
And don't forget to
*BOOKMARK US*